We produce price plates for nursery plant needs. They are used to mark plants in pots, flower beds etc.
Our plates are made entirely of stainless steel 1.4301 (AISI 304).
They are characterized by high resistance to weather conditions (low and high temperatures and sunlight).
With stainless plates, you can easily remove any "old" labels using publicly available solvents. The use of a solvent to remove residues from labels or glue will not damage the plate in any way. These tablets are "forever"
The dimensions of the plates are matched to the dimensions of the labels from our offer
You can use labels for thermal transfer, laser printing.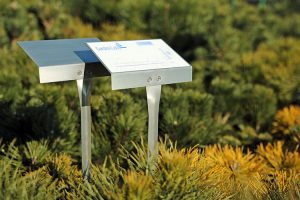 | PRODUCT | GARDEN-LABEL CODE | PLATE DSIMENSIONS | LABEL DIMENSIONS | DESCRIPTION |
| --- | --- | --- | --- | --- |
| Price plate, stainless steel-155x105x450mm | GL-TAB/304-155x105x450 | 155x105x450mm | 150x100mm | Stainless steel / acid resistant 1.4301, 1mm thick |
| Price plate, stainless steel-105x80x370mm | GL-TAB/304-105x80x370 | 105x80x370mm | 100x75mm | Stainless steel / acid resistant 1.4301, 1mm thick |
| Price plate, stainless steel-55x45x250mm | GL-TAB/304-55x45x250 | 55x45x250mm | 50x40mm | Stainless steel / acid resistant 1.4301, 1mm thick |